There are many ways to get smooth, even, refreshing and glowing skin from antioxidants to laser treatments. Exfoliation is one of them to improve skin texture and smoothness. It is the best way we all can do at home. However, it is easy to do it and learn how to exfoliate skin properly from head to toe with guide. Exfoliation is good for skin as it removes dead skin and recovers the skin. Let's describe it in detail further.
It is basically the process of removing dead skin cells from the outer surface of the skin using an exfoliant, which could be any chemical exfoliant or home base exfoliant. There are different ways to exfoliate skin
It could involve skin care tools, such as sponge, towel or a brush on your skin to remove the rough or dead skin cells. The other method could be using a chemical exfoliant like enzymes and scrubs with granules like microbeads or sugar to just refine the skin.
Exfoliants can be purchased from markets and can be made naturally at home to exfoliate instantly. Exfoliation is the good process usually adopted before any event. After exfoliation you can experience a smooth, plain skin texture and you'ld just enjoy your baby skin.
Why exfoliation is important?
The skin is just fixing and replacing itself and because of this procedure you can have layers upon layers of dead skin all over your body. So, as it is described earlier that exfoliation is the process of removing dead skin and it helps to get rid of these layers of dead skin cells and revealing bright skin after.
Exfoliation is important to improve and maintain the health of skin by removing rough and damage skin cells from your surface of the skin. It is basically to penetrate deeply. If you have acne-prone skin then exfoliation can help to clear out clogged pores that often central to breakouts. It is good or highly important if you want to fade-out your acne scars by accelerating skin cells incomings and stimulate collagen.
But, on the other hand exfoliation is considered to be not as good as described before for acne skin because the pimples get suppressed and can cause from acne later.
How to exfoliate your face?
There are two types of exfoliators chemical and physical. With physical exfoliant, wash your face with facewash, and then scrub your face in circular motion by avoiding the eye area. Massage gently on to the skin usually from 30 secs to a one minute. Then rinse it off with warm water and pat dry your skin. After this, apply any serum or moisturizing cream.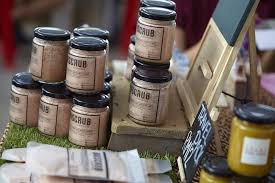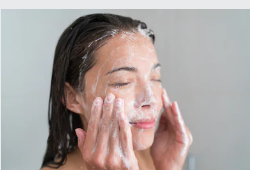 With chemical exfoliant, wash your face and apply chemical exfoliant and allow it to absorb completely into the skin. After this, apply serum or any cream. Some type of exfoliants is peels, which are similar to mask application and are required to be rinsed off.
Exfoliation produces good results if it is done three times in a week. Its constant use may cause micro-tears on your skin surface and strips your skin layer. Let's do it step by step.
Pick the right product which suits your skin type. There are many products available according to your skin whether it is oily, sensitive or dry. Choose one best if you have oily go for grapeseed scrub, and coffee scrub.
If you have dry skin go for kiwi scrub and for sensitive go for cocoa scrub. These may resurface your skin effectively and it also reduces the signs of aging and dark spots over time.
Apply small amount of scrub on your face and neck with dry fingers, avoid the eye area and gently massage in circular motion for few seconds.
Use warm water to rinse the scrub completely. Apply any moisturizer after exfoliation.
As your face needs exfoliation then your other parts of face also need to glow for perfect pout.
Pure sugar face scrubs can be used on your lips for scrubbing
Take small amount and apply it on your lips and then scrub.
Use wet fingers to massage on your lips, take care while scrubbing for few seconds. Then rinse it off and then apply lip balm to hydrate your lips.
Body exfoliation is also important to get softer skin.
Begin with dry skin, grab your loofah and gently rub on your whole body in circular motion to remove the dead skin.
After scrubbing, take shower
Step.3: Exfoliating Cleanser
There are many body scrubs or shower gel available to exfoliate body. You are required to exfoliate in circular motion. Give your elbows, feet and knees attention because they are more prone to dryness. You cannot neglect your back.
Rinse your body with lukewarm water and then apply moisturizer to all over your body to hydrate fully.
Natural products or home-based scrubs are safe exfoliators as they help in triggering cells process. The grainy or large granules scrubs will often give scratches. Other acid peels, must be performed by professionals because it is the proper form of deep exfoliation and it require a lot care.
There are so many home-made scrubs you can make yours.
Natural remedies to exfoliate:
Honey: You can make honey scrub by adding equal amount of sugar and lemon into it. Honey speeds up the exfoliation process; it helps to add moisture to your skin and making it great as a hydrating facial scrub. It also has whitening properties.
 2.Yogurt: yogurt is also a good exfoliant; it contains lactic acid and alpha hydroxy acid which gives mildness. It soothes and even tones the skin. You can apply plain yogurt to the face and let it remain for 20 minutes, and then rinse it off.
3.Sugar: It is a natural source of glycolic acid, and alpha hydroxy acid which can trigger skin cell production and thus smooths and give mildness to the skin. Mix brown sugar or white sugar with olive or coconut oil to make a paste and then apply it to the area in circular motion for few seconds and wash it off.
 4.Lemon juice: Lemon has vitamin C and alpha hydroxy acid which removes dead skin and give life to the dull skin. Mix lemon juice with sugar and apply the mixture to your area with cotton pad and leave it for 10 minutes before rinsing.
5.Papaya: It contains the papain enzyme which dissolves dead skin cells. It also has healing properties and lightens the spots and aging lines. Mash papaya and turns it into a paste then apply it for 15 minutes then rinse it off with warm water.
6.Blueberry: Blueberry is also a good exfoliant when it is mixed with honey. Take mashed blueberries, add 2 tbsp honey and 2 tbsp sugar. Mix them well and apply to the clean face for 15 minutes then wash it off with warm water.
7.Oatmeal: Oatmeal considered to be an excellent exfoliant. Mix uncooked oats with honey and add few drops of essential oil. Clean your face and apply a thin layer on your face then scrub for 5 to 10 minutes, rinse it off with lukewarm water. It helps in reduction of breakouts, and uneven skin tone.
8.Baking soda: It is an inexpensive remedy for face. Use baking soda for exfoliation is so good. Take baking soda with 16-ounce Cetaphil mild face wash, mix them well and apply the mixture, rub gently in a circular motion and rinse it off. Pat dry and apply any moisturizer.
9. Shea butter: It has many soothing properties. It softens the skin; boost collagen and helps in tissue cell regeneration. It also has anti-aging properties. It gives deep exfoliation, deep moisturizing which refreshes and soothes the skin.
Take Shea butter and melt it then add vitamin C and olive oil then mix and add essential oil and brown sugar to make a firm paste. Apply this paste onto your body thoroughly in circular motion then rinse off with warm water. This exfoliation gives you instant and radiant skin look. 
10.Coconut: Coconut is considered to be the best exfoliate because it has amazing hydrating properties. It restores the skin natural balance and removes dead skin as well. It is easily available. Take ½ cup of virgin coconut oil, add 1 cup sugar add 5 drops of essential oil.
Mix them well together. Apply the mixture on your body and gently scrub. Leave it for half an hour as coconut oil wants time to act. It deeply penetrates the skin and gives smooth texture and extra glow to you.
THE payback OF EXFOLIATION
The significance of exfoliation is to marsh off the dead skin cells which are the cause to dull skin. Regular exfoliation may help to make your other crops work good since they won't be sitting on top of plenty of builds up.
It is highly recommended in summers because in summer you may have plenty of sweat and sebum that cause layers of dirt on your skin surface and this layer clog your pores and you face acne. Exfoliation is helpful to clean out the pores deeply and removes the dirt particles as well. 
HOW frequently you should EXFOLIATE?
Exfoliation is an essential skin care routine and it must be added to your routine of skin care if you want to look younger and beautiful. Once you experience exfoliation your heart beats to get this done every week.
How often you engage in it, varies from skin to skin. Some people use to exfoliate weekly while some are crazy about it and are able to exfoliate few times per week. Remember, how your skin respond after this process to determine what is good for your skin.