Face masks have traditionally been seen as a skincare staple for women, but men can also benefit greatly from incorporating masking into their grooming routines. The global male grooming market has exploded in recent years, and more guys are discovering how special face mask for men can take their skincare game to the next level.
But with so many options marketed toward women, it can be confusing for men to find face masks suited to their unique skincare needs. Men's skin tends to run oilier and requires deeply cleansing formulas that also hydrate and soothe razor irritation.
In this guide, we dive into all things masking for men. You'll learn about the advantages face masks can provide to men and discover the best mask picks for every skin type and concern. We've got great face mask recommendations explicitly designed with men's grooming needs in mind, as well as tips for seamlessly adding masking into your routine.
Whether your skin leans oily, dry, sensitive, or mature, we've got you covered. Let's explore the top face masks to help you look your best!
The Benefits of Using Face Mask for Men
From deep cleansing to anti-aging perks, face masks offer a variety of advantages for men's skin:
Deep pore cleansing – Clay, charcoal, and mud masks absorb oil, draw out impurities and detoxify clogged pores. Great for oily and acne-prone skin.
Hydration – Gel, sheet, or cream masks provide a surge of moisture to soothe dry skin or razor irritation without clogging pores.
Calming properties – Soothing masks with ingredients like aloe, green tea, and oatmeal calms inflammation from shaving, breakouts, or ingrown hairs.
Anti-aging effects – Vitamin and antioxidant-rich masks reduce signs of aging like wrinkles, dullness, and sun damage.
Occasional intensive treatment – Use 1-2 times per week for concentrated skin nourishment and pampering.
Enhanced shaving prep – Exfoliating masks smooth skin for a closer, irritation-free shave.
Let's explore some top face mask picks suited to handle men's specific skincare needs and concerns.
Best Masks for Oily and Acne-Prone Skin
If you're struggling with excess shine and breakouts, these are some of the top men's face masks to clarify and detoxify:
Rugged & Dapper – Detox Face Mask
Contains kaolin clay and willow bark to absorb oil and deep-clean pores
Charcoal draws out impurities while tea tree oil purifies
Reduces breakouts and controls shine
Jack Black – Deep Dive Glycolic Facial Cleanser
Glycolic and salicylic acids provide chemical exfoliation
It helps clear congested pores and fade acne scars
Leaves oily skin smooth and mattified
Kiehl's – Rare Earth Deep Pore Cleansing Masque
Amazonian white clay absorbs oil and minimizes pores
Oatmeal and aloe vera soothe skin prone to irritation from shaving
Refreshes dull skin and reduces breakouts
Best Masks for Dry Skin
If shaving or environmental factors leave your skin feeling parched, these ultra-hydrating masks are a godsend:
Bulldog – Original Moisturiser Mask
Packed with nourishing aloe vera, camelina oil, and vitamin E
It provides a surge of soothing hydration without clogging pores
Calms razor irritation and redness
Lab Series – Urban Blue Detox Clay Mask
Kaolin clay draws out impurities without over-drying
Glycerin injects intense moisture into the skin
Leaves skin feeling cleansed yet soft and hydrated
Clinique For Men – Oil Control Mattifying Mask
Controls oil and shine while providing hydration
Oat extract calms and soothes dry, irritated skin
Refreshes dull or tired skin
Best Face mask for Anti-aging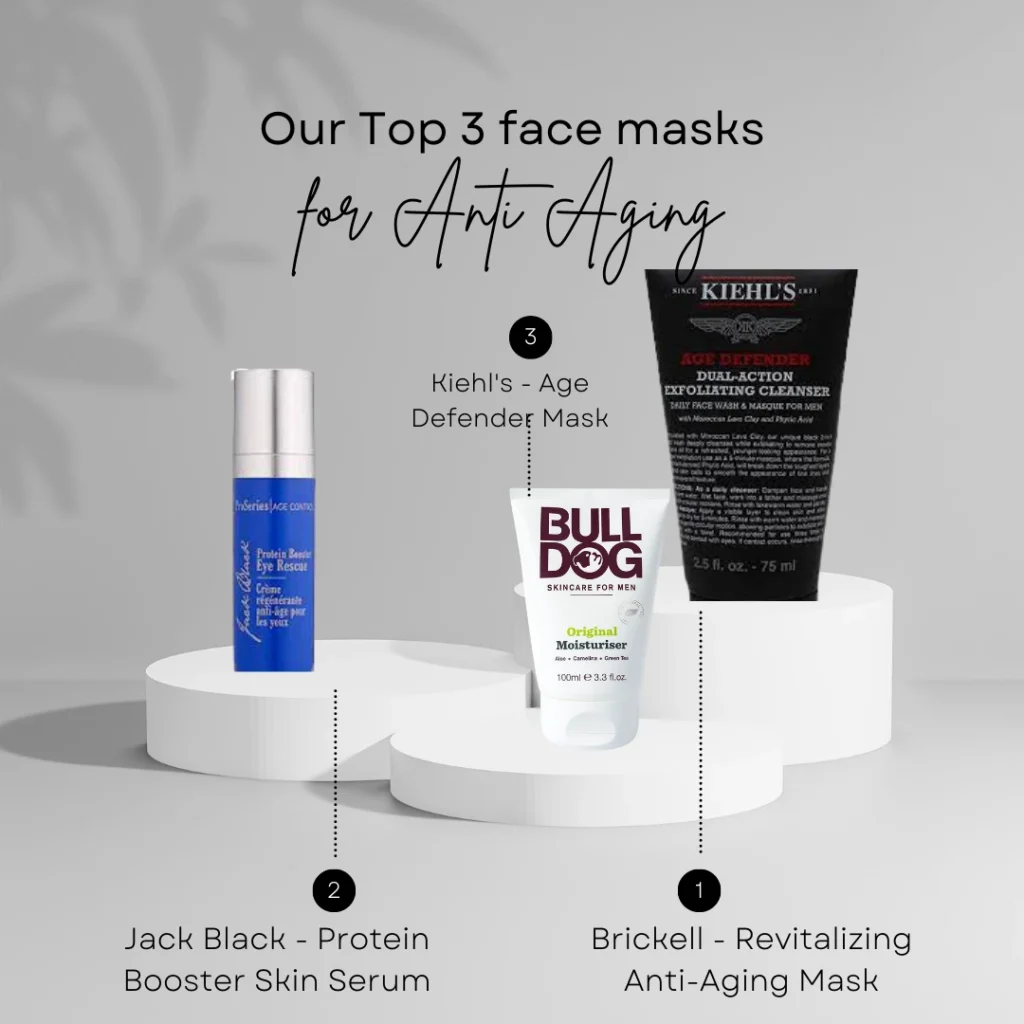 Fight back against wrinkles, dullness, and loss of elasticity with these rejuvenating masks:
Brickell – Revitalizing Anti-Aging Mask
Peptides and collagen stimulate the skin's repair process
Hyaluronic acid provides deep hydration
Improves firmness and minimizes signs of aging
Jack Black – Protein Booster Skin Serum
Soy protein and antioxidants improve elasticity
Rosemary leaf extract stimulates circulation
Reduces the appearance of wrinkles and hydrates aging skin
Kiehl's – Age Defender Mask
Cranberry and oregano extracts provide antioxidants
Helps firm and smooth skin texture
Reinforces collagen to prevent further signs of aging
Tips for Maximizing Your Mask
Follow these tips to make masking an easy, effective addition to your grooming routine:
Cleanse first – Always start with a clean-shaven face to allow mask ingredients to absorb better.
Follow directions – Carefully read and follow mask instructions for application, drying, and removal.
Even application – Apply a uniform layer all over your face, avoiding eye and lip areas.
Set a schedule – Block time 1-2 times a week for masking. Doing it after showering works for many men.
Shave first – If using an exfoliating mask, shave before applying to prevent irritation.
Moisturize after – Follow every mask with a moisturizer suited to your skin type to hydrate and seal in benefits.
Track results – Note improvements in your skin over time to find the best masks for your needs.
Don't overdo it – Use masks only as directed to avoid drying out or irritating skin.
Find Your Perfect Mask Match
Thanks to the growing men's grooming market, there are now excellent face masks tailored to handle men's unique skincare needs.
The key is finding one that aligns with your specific skin type and concerns, whether your goal is reducing oily shine, hydrating dry skin, or fighting the signs of aging.
With the right face mask worked into your weekly routine, you'll see transformative improvements in your complexion over time. Your skin will look cleaner, smoother, and more refreshed.
We hope this guide gave you a comprehensive overview of the many benefits of masking for men along with top mask recommendations. Remember to follow directions carefully and incorporate masking into your regimen consistently for best results.
Your skin deserves some extra TLC. Grab one of these top-rated face masks formulated just for men and give your face the high-quality treatment it deserves!