The most vulnerable areas are our body's lips and mouth and a major facial part that enhances our beauty and looks. Therefore, keeping them safe and healthy is our primary responsibility. The DIY LIP BALM does wonders to our lips.
It's tough to keep our mouth and lips healthy because numerous problems keep on arising frequently and one of the most common issues is a cold sore.
Several studies and researches have shown that around 60% to 85% of Americans are affected by the herpes simplex one virus.
It causes unbearable pain.Hence to get rid of this virus, it is necessary to use the DIY LIP BALMS, as they do not have any harmful ingredients but help us solve all problems of lips…
The world's prettiest thing is your smile, it's not all about your teeth, but it is the game of both your lips as well as your teeth.
However, we all wish to have soft and pink lips, and for that, our lips need extra care and attention, along with the use of the best quality and natural lip balms.
The skin of lips is thin and so sensitive than your face. Lips do not have any sweat glands; in this sense, they require extra care to keep them moisturized and healthy.
Apart from a cold sore, various other chronic problems are prevalent in Americans and the most common are the cracking and drying of lips.
It not only gives you the utmost pain but also affects your facial attractiveness and beauty. Therefore, using natural lip balms provides you ideal cold sore treatment and helps you get rid of other chronic problems.
The use of DIY lip balm is often necessary because our lips don't produce any oil and are likely to become dry and chapped.
You will face these issues, especially during winter. However, many of us have chapped lips regardless of the season.
You live or go on vacation in a hot, dry climate or a high altitude. In extreme cases, lips can be bruised and bled because they can use generic lip balls or depend on nothing.
Licking one's lips makes the problem worse.
The following are the reasons for chapped and discolored lips.
An unhealthy lifestyle in which you do smoking, use drugs or take stress, or had a bad diet.
You might have dehydration.
Excess intake of caffeine.
Use of expired lip products which are also of cheap quality.
You forget to remove your makeup, lipstick at night,
It might be possible that you are anaemic.
 Exposure to the sun and pollution most of the time.
 Now, it gets hard for us to keep up-to-date with pink lips and buy expensive products from the market to hydrate and care for our lips.
But it is quite significant to be mindful of our kitchen ingredients, which might help us to get rid of dark and chapped lips with no cost and serves as quite an affordable thing for you to enjoy.
Benefits of DIY LIP BALM:
The lips are  the essential parts of the body, making a woman beautiful. Take, for proof, the ever-famous Angelina Jolie lips that are the favorite of many women all over the world.
A perfect smile largely depends on your lips; however, chapped and wrinkled lips not only add some years to your age but also fade away from your smile.
Is there anyone of us who will not have started our love affair with OUR DIY LIP BALM after our first experience of chapped lips?
Here is my story:
I had crippled and dry lips for no apparent reason a few summers ago, although my diet was the same as before.
I've been using different lip balms brands that I've bought from a health food store for years, and I read the contents very carefully and noticed that they contained almond oil and other natural ingredients.
I reread the label on closer inspection, and the last word was a clue that I needed: "active sunscreen-PABA."
The other brand contained all-natural ingredients, including lanolin, derived from sheep wool but is a well-known sensitizer.
Either or both of these ingredients are responsible for irritating my lips.
Instead of using lip balm, I turned to some firm cocoa butter that I happened to have. 
It began healing my lips within 24 hours of using it, then I started finding ways to DIY lip balm that would, of course, include skin-loving cocoa butter.
Lip repair products such as lip balms and lip gloss come in handy to shine to dry and dull lips and retain natural moisture.
 In this article, we have mentioned some homemade lip balm recipes which are not expensive and easy to make.
Beetroot balm serves as a good lip balm to moisturize your lips. It works as a natural exfoliator and helps you to lighten your lip color with continuous usage.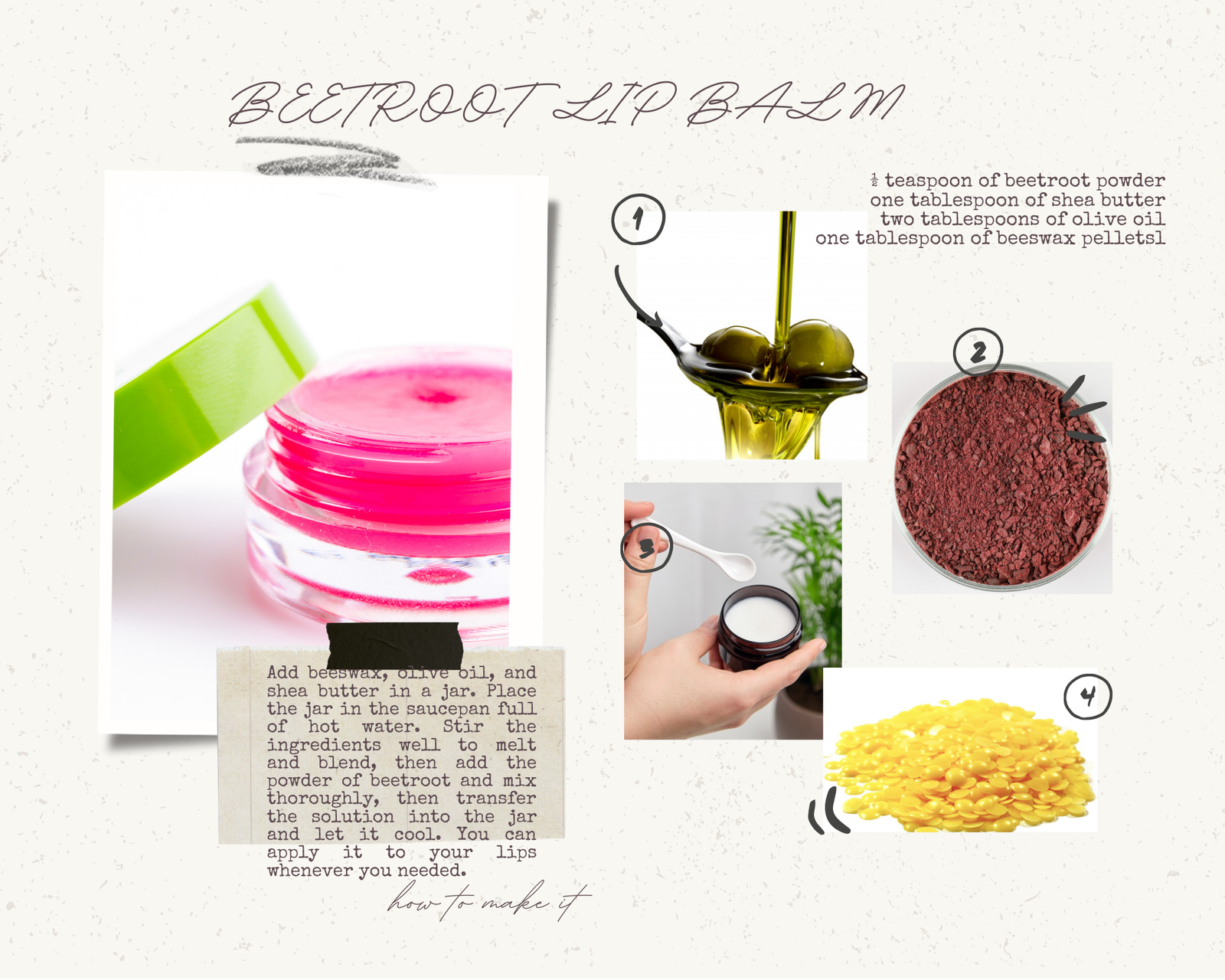 To make this balm, you need:
½ teaspoon of beetroot powder
one tablespoon of shea butter
Two tablespoons of olive oil
One tablespoon of

beeswax pellets

A jar
Add beeswax, olive oil, and shea butter in a jar.
Place the jar in the saucepan full of hot water.
Stir the ingredients well to melt and blend, then add the powder of beetroot and mix thoroughly, then transfer the solution into the jar and let it cool.
You can apply it to your lips whenever you needed.
Beetroot lip balm is the ideal lip balm because it contains shea butter rich in vitamin A and E, olive oil, a natural conditioner.
 Beetroot contains violaxanthin and betanin with antioxidant and anti-inflammatory properties that lighten the dark lips, and beeswax protects your lips.
The harmful contents in the lipstick, hot sun rays, and deficiency of vitamins in the body will make your lips unattractive and chapped.
Honey rose lip balm recipe is one of the best balms which gives instant care to your lips.
 For this, you need :
One teaspoon of avocado oil,
Five drops of essential rose oil,
One teaspoon of flower honey 
Pink powder of roses 1 gram.
1 Tablespoon of crushed beeswax
Mix and melt the beeswax, pour avocado oil and hold for 2 minutes, and then add honey with rose oil and powder. Let it harden in a lipstick block. Now it is ready to use.
HONEY AND OLIVE OIL LIP BALM: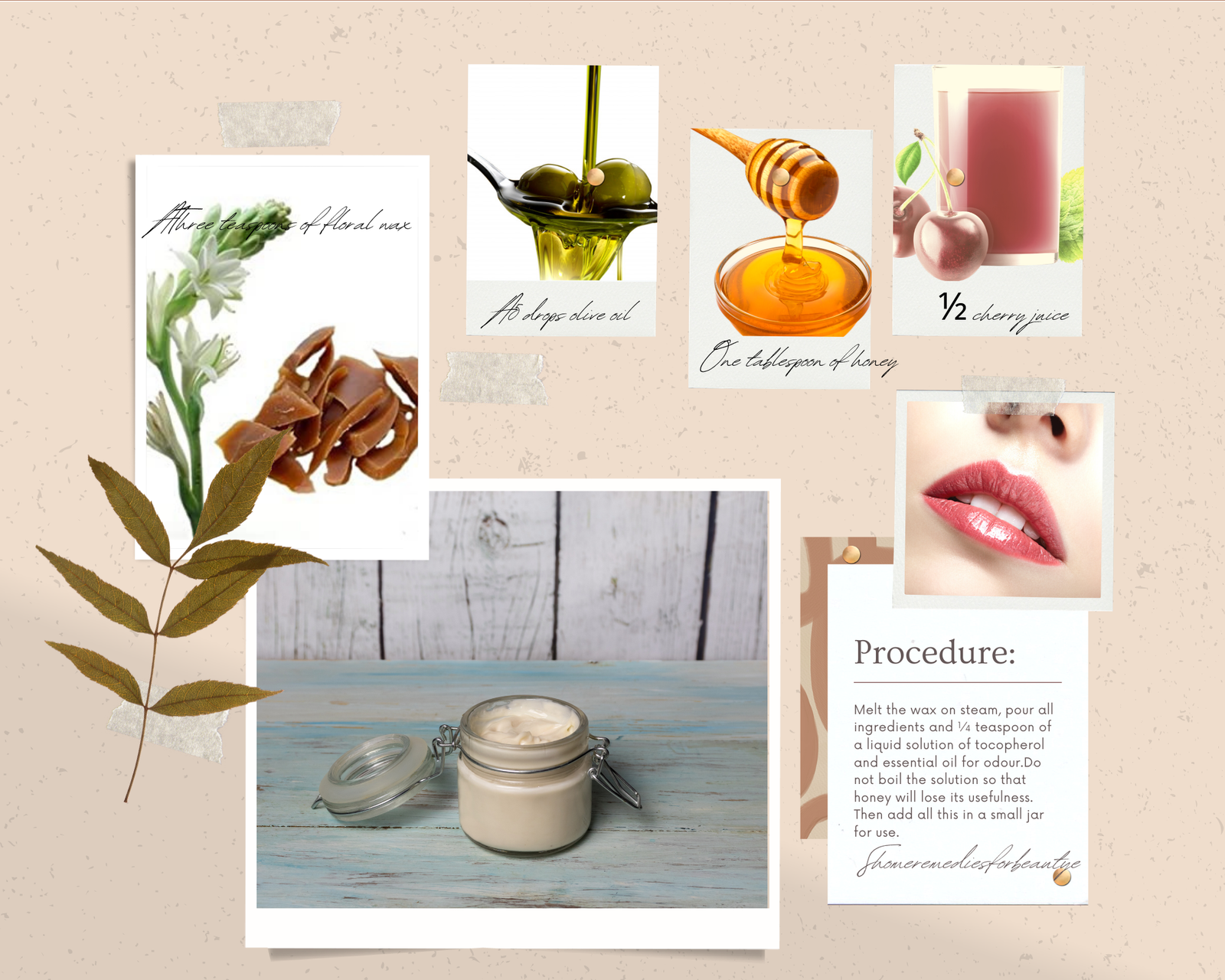 If your lips are cracked, inflamed, and they lost the pink color, then you need this fantastic lip balm.
You need:
Three teaspoons of floral wax
5 drops olive oil
One tablespoon of honey
Melt the wax on steam, pour all ingredients and ¼ teaspoon of a liquid solution of tocopherol and essential oil for odor.
Do not boil the solution so that honey will lose its usefulness. Then add all this in a small jar for use.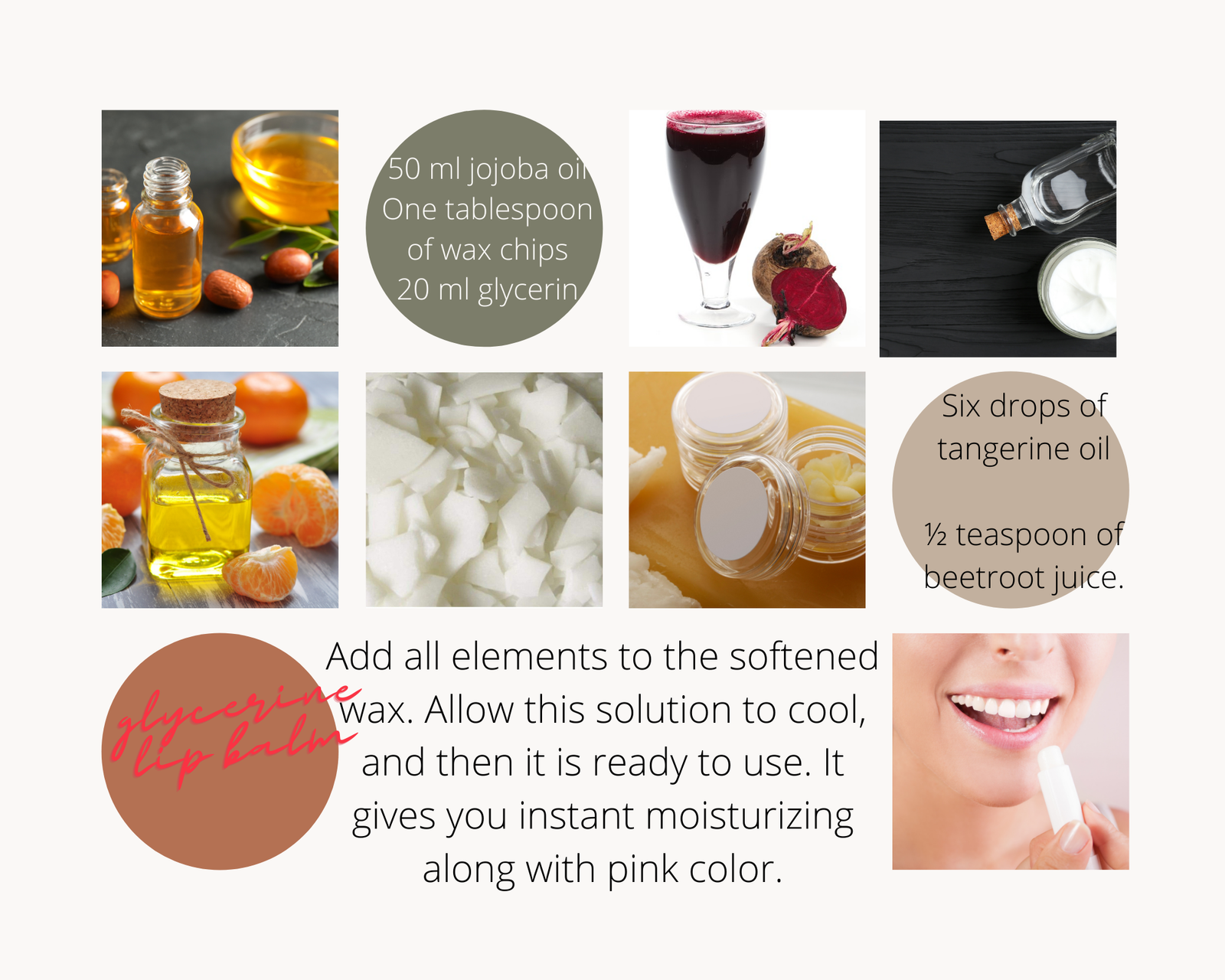 Moisturizing is also essential after the color of the lips. The glycerin lip balm will require:
50 ml

jojoba oil

One tablespoon of wax chips
20 ml glycerin
Six drops of tangerine oil
½ teaspoon of beetroot juice.
Add all elements to the softened wax. Allow this solution to cool, and then it is ready to use. It gives you instant moisturizing along with pink color.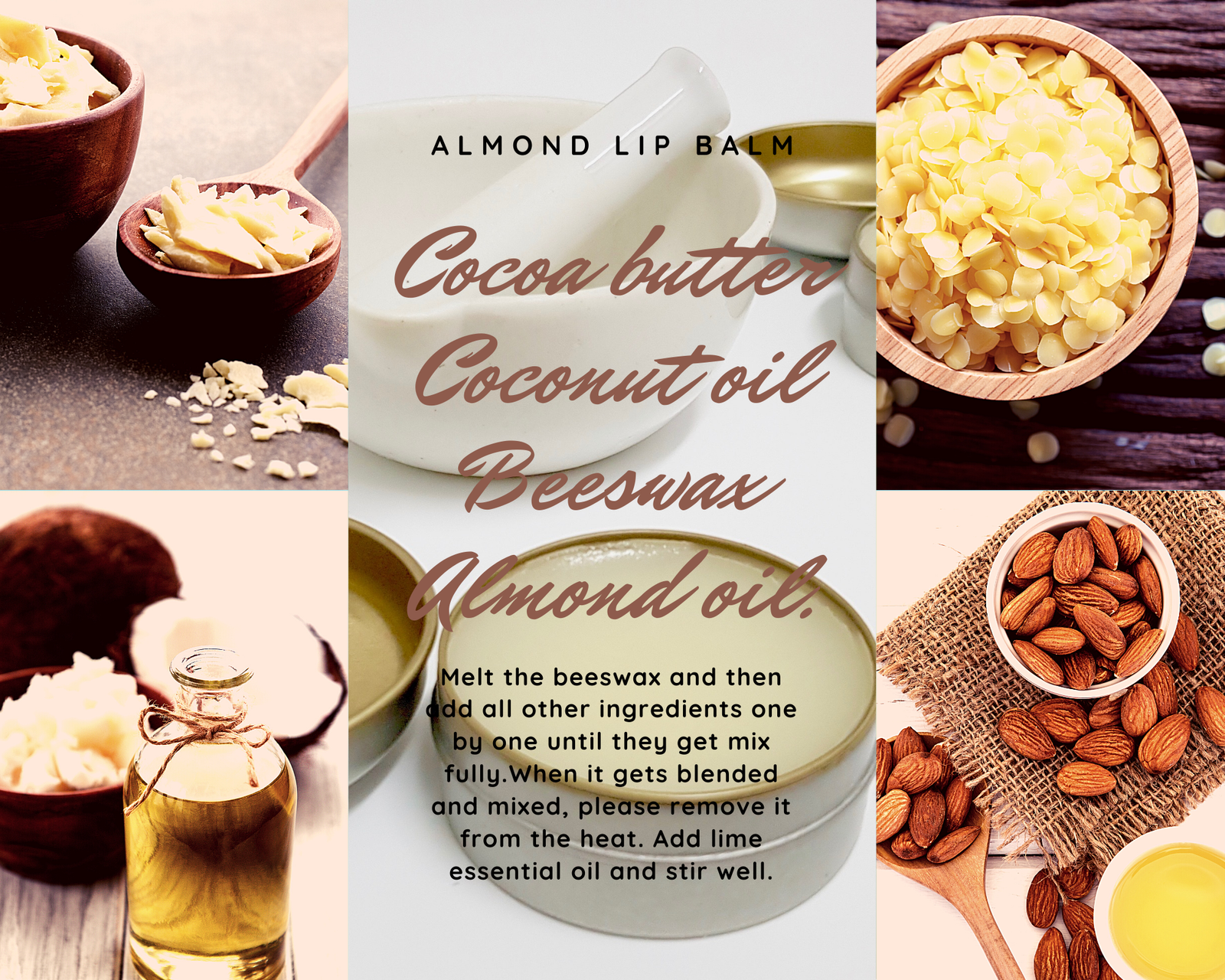 For this lip balm, you need
Cocoa butter
Coconut oil
Beeswax 
Almond oil.
Melt the beeswax and then add all other ingredients one by one until they get mix fully.
When it gets blended and mixed, please remove it from the heat. Add lime essential oil and stir well.
Transfer the solution into a jar and let it cool before application.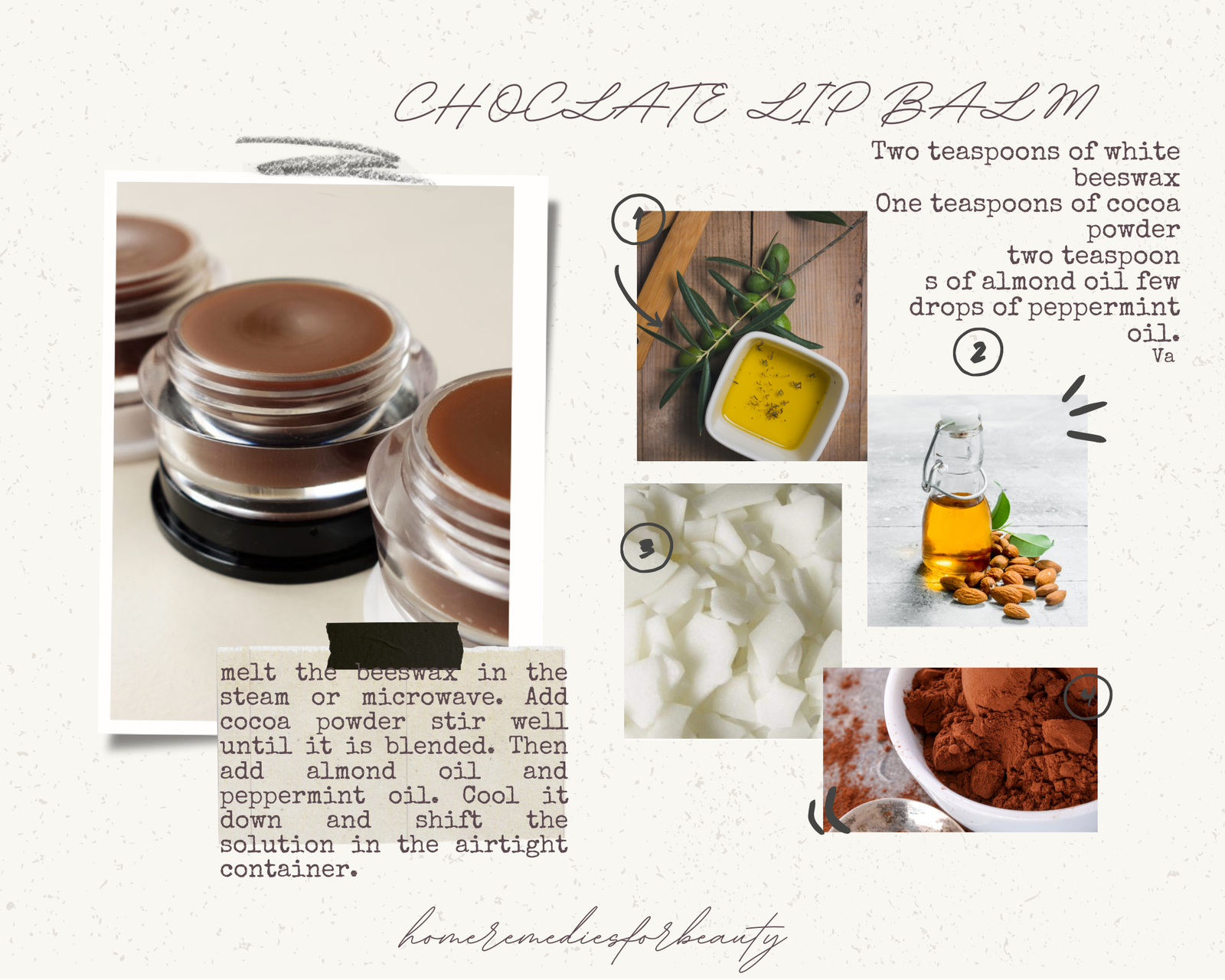 Chocolates are good for giving a pink color to your lips. To make this, you need:
Two teaspoons of white beeswax
One teaspoon of cocoa powder
Two teaspoons of almond oil
Few drops of peppermint oil.
Melt the beeswax in the steam or microwave. Add cocoa powder stir well until it is blended. Then add almond oil and peppermint oil.
Cool it down and shift the solution in the airtight container. Apply this whenever your lips get dehydrated
Raspberry lip balm is the best balm to cure your lips. You need:
Two teaspoons of raspberry gelatin
Two tablespoons of virgin coconut oil
Four drops of lemon essential oil
Microwave coconut oil, add raspberry gelatin mix, and blend them well. Microwave it again until oil got the raspberry color.
Now, add lemon essential oil and mix properly.
Your balm is ready, put it in the container and place it in the refrigerator until it hardens.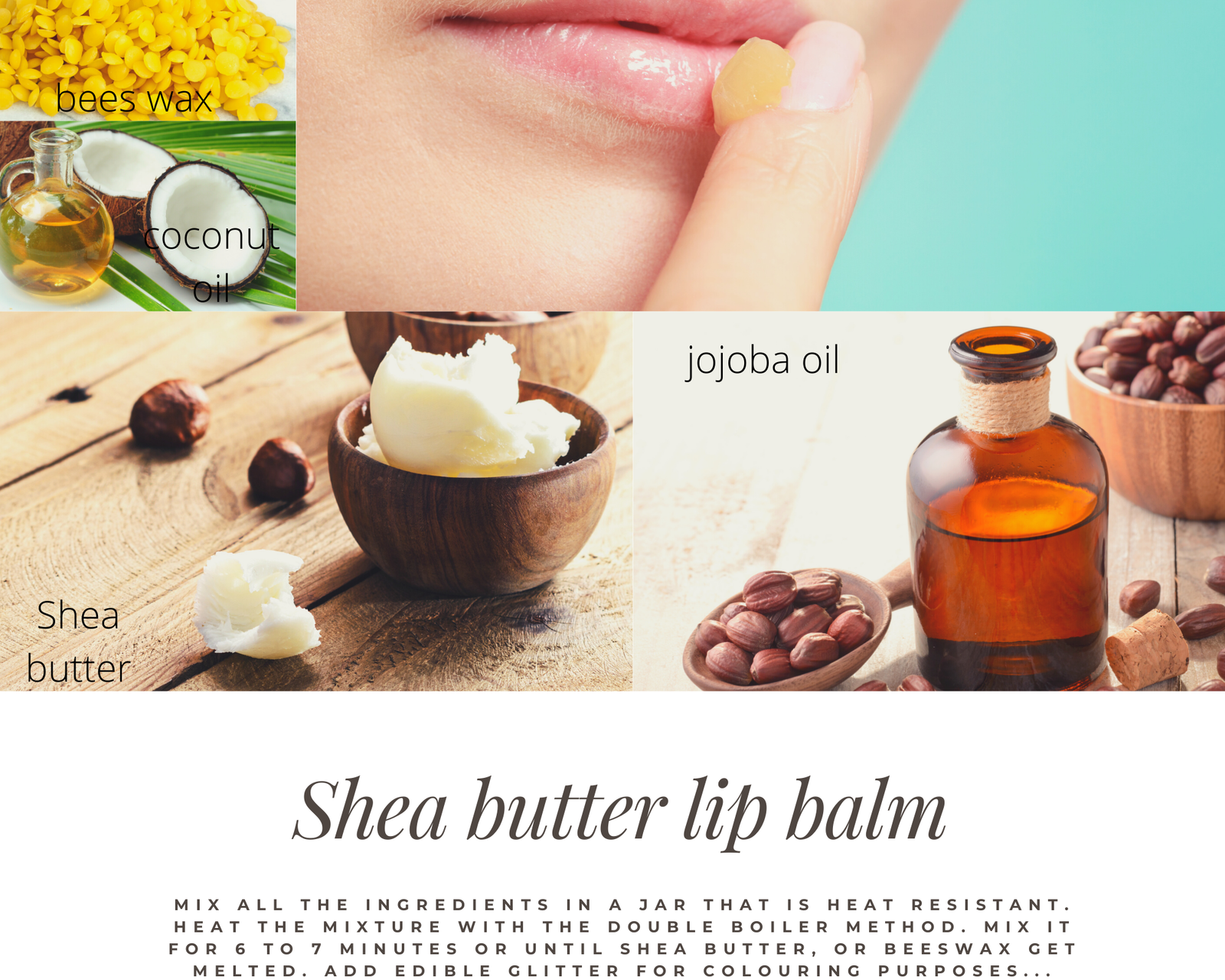 If shea butter—a material that moisturizes the skin and preserves the skin cells' elasticity—is added to the lip balm.
It will hydrate the cells, but they eventually recover their natural elasticity so that they are better able to hold the moisture away.
Since unrefined shea butter contains both a high moisturizing fraction and a too-high healing fraction, it is a beautiful agent to revitalize our skin cells and restore their moisture retention ability.
one teaspoon of beeswax
one teaspoon of shea butter 
 one teaspoon of jojoba oil
one teaspoon of coconut oil
EDIBLE Glitters (optional)
Mix all the ingredients in a jar that is heat resistant.
Heat the mixture with the double boiler method. Mix it for 6 to 7 minutes or until shea butter, or beeswax get melted.
Add edible glitter for coloring purposes. It is optional.
Pour the liquid into an airtight container.
Your homemade shea butter lip balm will be ready for use soon after it is solidified.
BENEFITS OF INGREDIENTS USED IN DIY LIP BALM:
Shea Butter ~ This naturally smooth texture is noticeable in the finished product. Shea butter is an excellent skin conditioner and rich in vitamins A and E.
Cocoa Butter ~ A nut fat derived from the cocoa bean, cocoa butter has become the key ingredient in many skin care products due to its softening and healing properties. Cocoa butter adds a bit of firmness to the lip balm.
Unsweetened Chocolate [In Chocolate-Mint and Chocolate Lip Balms Only] Real chocolate adds taste and color to the lip balm. But your lips won't turn brown!
Peppermint: This Peppermint Lip Balm adds zing to your day and protects your lips from the elements, relaxing and smoothing them to softness.
Coconut Oil [Luxurious Coconut Lip Balm Only] ~ Helps keep the lips soft and moisturized.
Pure Essential Oils ~ Beauty grade perfumes for your lips.
Beeswax ~ Naturally processed white beeswax keeps together these lovely lip soothing ingredients and serves as a moisturizer.
Jojoba oil: Jojoba Oil is a membrane that essentially stops moisture from entering. Protects the lips from harsh weather conditions, making them moist and supple.
WHY DOES LIP BALM DEPENDENT ON PETROLEUM NOT WORK?
Petroleum-based lip balm doesn't claim to solve the problem that causes the lips to dry.
Instead, it essentially serves as a band-aid—slightly moisturizing the lips' surface and keeping the moisture there, rendering the lips less dry for a while.
But if you want to keep your lips moist using petroleum-based lip balm, you need to re-apply your lip balm regularly.
Well, you may as well lick your lips all the time—it has the same temporary effect, it's much cheaper, and there's no chance that bacteria will be stuck between the fatty lip balm and the skin, causing more inflammation and even infection.
Many natural and organic lip balms contain Propolis and Tea Tree Oil.
These natural ingredients are considered the most effective lip treatment that heals all your lip wounds quickly and makes your lips healthier and more beautiful.
You will also get the best results from these balms, which contain vitamins, peptides, enzymes, and organic butter.
These ingredients moisturize and penetrate your lips deeply, making them look lovely and beautiful.