The most common word usually we hear in spring, it comes with its full glory and half of the population rash towards it. Yeah, you are right it also belongs to a food item & is very beneficial for skin but guess what?
Scientifically called Fragaria x ananass, I mean, come on, who is going to hate em…!
Yeah, you're right. We are talking about a fruit none other than
STRAWBERRY.
These berries are not only good in taste but did you know this fruit has amazing benefits for skin?
When it comes to your skincare, who wouldn't be so excited to know the benefits it hides in itself.
Strawberries are popular for their distinguishing aroma, bright color, and juicy consistency. It is a major ingredient in juices, pies, ice creams, chocolates, and milkshakes.
That is why we love it. Oh wait, here is something interesting to know about them. They are rich in
Vitamin A, C, D, E, K, B1, B2, B3, B5, B6, B12.
Besides these nutrients, you can make
face masks
of strawberry with other things to get incredible benefits for skin. Let's talk about the amazing strawberry benefits for skin.
These berries are very helpful in the treatment of puffy eyes. It contains alpha hydroxyl acid which makes the skin look smooth and young.
Things you need:
Take 2 Strawberries, cool them for half an hour. After that, cut them into thick slices. Place them on your face and leave for about 15 minutes. Wash your face with cold water. You can do this anytime but at night.
2. Anti-aging properties:
Strawberries are rich in Vitamin C than any other fruit. They contain lycopene, an antioxidant that plays a pivotal role in removing the signs of aging. Whenever there is a season of berries just run after that and say goodbye to your aging signs.
Benefits:
The antioxidants it contains needs to be given credit! They defend our body from damage and prevent the signs of aging which are most common and get started at age 30 like wrinkles, sagging skin, fine lines, etc.
3. Strawberry Mask for Brighten, lighten and tighten skin:
As we all know that strawberry contains Vitamin C and it is helpful to brighten up your dull, tan, uneven skin tone with a revitalizing face mask. These are not only good for your health but also for your skin.
Things you need:
1 tablespoon Powder milk,
1 strawberry
Rose water or fresh milk.
Let's make:
Mix all these ingredients in a bowl with mild consistency like a mask that covers the whole of your face and let it stay for 15 minutes. Use it twice a week for better results.
4. Strawberry Use For Acne Treatment:
Ingredients:
Strawberry puree,
fresh cream or yogurt
honey
Let's make:
Make a puree of strawberries, mix with fresh cream for dry skin or yogurt which is for oily skin and add 1 tablespoon honey. Apply this on all over your face and leave for 10 minutes. Wash with warm water. You can also freeze this mask for later use.
Benefits:
It helps to reduce acne.
5.Lime & Strawberry Face Mask:
Ingredients:
Few Strawberries
Lime juice
Let's make:
Mix strawberries and add a tablespoon of lime juice in a bowl. Apply it on all over your face for just 15 minutes and wash it off with warm water. Use it at night twice a week.
Benefits:
It helps reduce in de-tanning your skin and lightens up your pigmentation marks.
6: Chocolate & Strawberry Mask: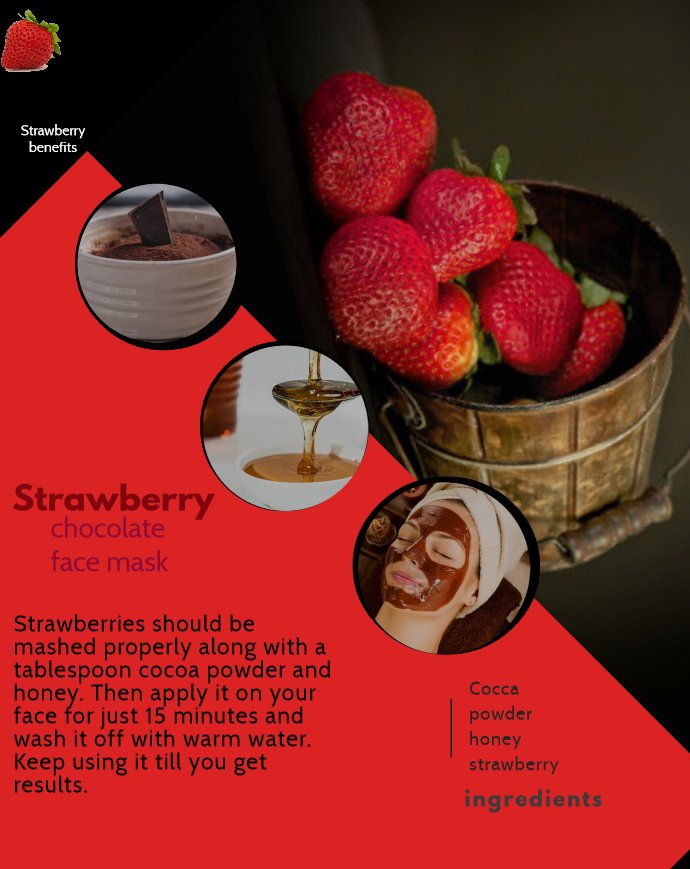 Ingredients:
Mashed strawberries
cocoa powder
honey
Let's make:
Strawberries should be mashed properly along with a tablespoon of cocoa powder and honey. Then apply it on your face for just 15 minutes and wash it off with warm water. Keep using it till you get results.
Benefits: It makes your skin glowy, radiant and also makes it soft and supple.
7. Strawberry and honey face mask:
Ingredients:
Let's make:
Mash a few strawberries properly then add a tablespoon of honey and apply this mask for just 15 minutes and wash it off with warm water.
Benefits: Honey is having good antioxidant properties which helps to fight skin impurities and acne as well.
8.Blemish prone skin Mask:
Ingredients:
Banana
strawberries
cream
honey.
Let's make:
Mash 1 banana with strawberries, add cream or yogurt and a tablespoon of honey. Apply it all over your face, let it on for just15 minutes.
9.Rice flour and Strawberry mask: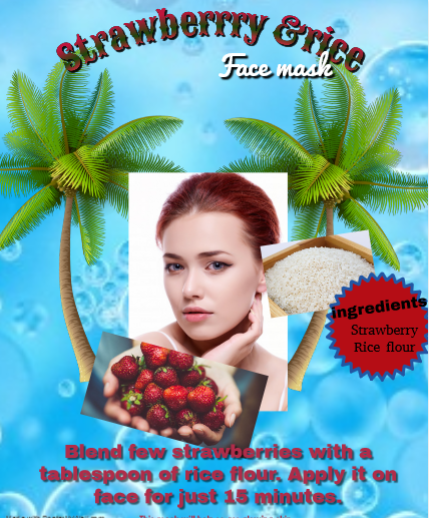 Ingredients:
Let's make:
Blend a few strawberries with a tablespoon of rice flour. Apply it on the face for just 15 minutes.
You need:
Only strawberries 😊
Let's make:
Cut berry in pieces and rub it all over on your face, as it contains alpha-hydroxy acids that have the excellent exfoliating ability. Let it sit on for a minute and wash it off.